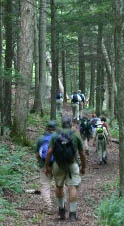 Keystone Trails Association, a volunteer-directed, public service organization is a federation of membership organizations and individuals dedicated to providing, preserving, protecting and promoting recreational hiking trails and hiking opportunities in Pennsylvania, and to representing and advocating the interests and concerns of the Pennsylvania hiking community.
A "keystone" is the central wedge-shaped stone of an arch, the stone that holds the entire arch together. Since the 1800s, Pennsylvania has been known as the Keystone State in tribute to its importance to the original colonies.
KTA protects hiking trail lands through support and advocacy and educates the public in the responsible use of trails and the natural environment. Through our newsletter, website, and Facebook page, members and hikers are kept informed about hiking-related activities in and around Pennsylvania. It is our hope that this website will give you the needed information to plan and hike the many fine trails of Pennsylvania.
Join us on a hiking weekend, for trail maintenance, or at a workshop or training seminar and see what KTA is all about.
If you are in need of further information please contact us and we will be glad to help.